2024 Krewe Organization Pricing
Walking Krewe $200* The Walking Krewe fee has been waived, however, a security deposit is still required.
Float $500* The Float fee has been waived, however, a security deposit is still required.
Business Entry $800*
Float Sponsor $2,500*
*$350 deposit required with fee
The waiver of fees does not apply to business or commercial floats seeking to create marketing presence in the parade or display their logo. Only official Mardi Gras Inc sponsors may create a marketing presence and display their logo in the parade in a way approved by Mardi Gras, Inc.
Parade Application Form

Numbers are all around us.
We paint by numbers.
We eat 3 square meals a day.
Sometimes we are behind the 8-ball.
We go the whole 9 yards.
It's as easy as 1, 2, 3.
So, we've decided why not do "Mardi Gras By the Numbers" in 2024!
Sharpen your pencils and come up with your best number themed idea for your Mardi Gras Krewe entry in the 2024 Bud Light Grand Parade. You can do retired numbers; your favorite year (it's a number); Baskin Robbins (31 flavors); Route 66. Really, like numbers the possibilities are infinite.
If you are stumped with the creative process, feel free to reach out to creativedirector@mardigrasinc.com for help. Use the decorating suggestions and helps from other successful krewes.
Laissez Les Bon Temps Rouler!
Make large props
Use lots and lots of glitter
Don't take anything off once it is on. Make it work.
Step back 12 ft and squint – it will look much better, remember the judges don't see it up close.
Use BRIGHT colors
Apply spray paint around the edges for depth
Costumes that allow for movement have a bigger effect
Show not throw! Think about the entertainment value your group brings!
Have fun! If you love it, the audience will too.
What is a Krewe?
The word "Krewe" is used to describe any carnival organization or club. It was originally coined in 1857 by New Orleans' the Mystic Krewe of Comus. They wanted to give their club's name an "olde-English" flavor. In present-day St. Louis, the Bud Light Grand Parade is made up of many, many Krewes, with each one represented by a marching group or float.
Can I Start a Krewe?
Grab your friends and family and let's do this! With some effort and creativity, you and your friends can take center stage amongst the thousands of screaming fans. What a rush!
How to Form a Krewe
If you are new to the parade and interested in starting a Krewe, walking/marching Krewes are a good place to start. A walking, marching, biking, or golf-carting Krewe can be a fun, easy, and inexpensive way to spread joy and excitement to the parade goers and have an awesome time creating with your friends. If you'd like help getting started or need some ideas please contact creativedirector@mardigrasinc.com. Music, movement, and performance really add to your group's presence in the parade. Think about the mood you want to convey to the crowd and add some music and dance! Once you figure out how you'd like to participate and how many of you to register, you'll be ready for the parade.
For those who show the most creativity and really get the crowd going, we will be awarding prizes to the very best Krewes. Don't just come along for the ride, be the Krewe that brings down the house.
And, most importantly, don't forget to follow the guidelines for safety and reliability compliance.
2022 BUD LIGHT GRAND PARADE WINNERS
Wheels Category:
1st place: Mystic Knights of the Purple Haze
2nd place: Krewe of Vices of Virtues
3rd place: Bootleggers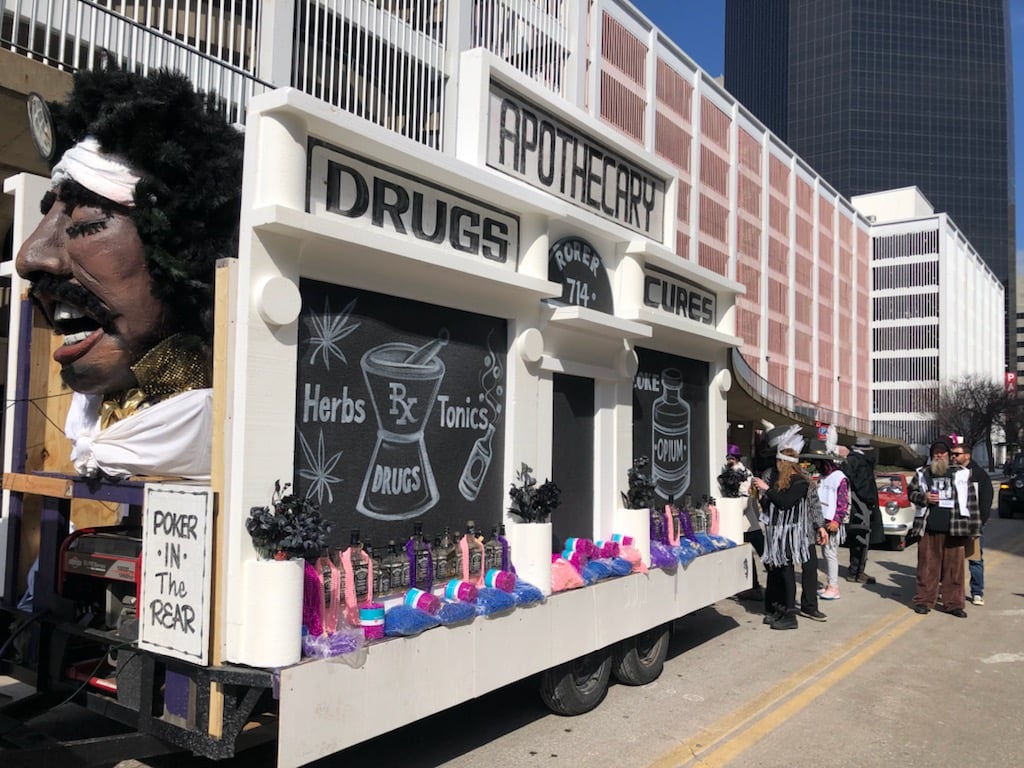 Street Category:
1st place: Gateway Precision Lawn Chair Krewe
2nd place: Banana Bike Brigade
3rd place: Soulard Yacht Club
Costume Category: Bootleggers
Theme Category: Afton Vice
Wow-Street Category: Topless Mafia Jeep Krewe
Wow-Wheels Category: Mystic Knights of the Purple Haze